How to work at home comfortably in the new digital age
For several months or even a year, some of the leading companies in the international market have been carrying out so-called teleworking. A clear and practical way to take advantage of our time and dedicate it to important things and not to long commutes and often wasting time in crowded work areas.
In short, Covid-19has arrived and has led us to the consolidation of a new era. If you still don't know how to work at home comfortably in the new digital age, we recommend reading to the end.
If you work from home, you mustadapt your spacein search of an ideal environment for you and your family. Reworking that small table that you used from time to time has now become an obligation and looking for a more convenient and comfortable position has become a priority.
Use of the backyard with pergolas or wooden houses has become popular due to the need to gain create space at home and needing to find an ideal and quiet place.
With the development of Information and Communication Technologies (ICT), a production tool that has gained momentum, the work of large corporations that have not stopped due to the pandemic has been strengthened. The trend is leading us towards a new digital economy.
With all the attention, homes have now become the new workplace. This brings with it a series of factors against it, such as the inadequacy of a space to work.
Is it possible to be more productive if I work from home?
Millions of people around the world have adapted to a new way of working. This dynamic has changed the way we cope and interact with other people.
One of the factors that will determine your productivity is the workplace. When you have the office at home, you shouldn't be constantly interrupted and you should make it clear to the rest of the tenants of the house that you are working and that you cannot be disturbed.
If you have wooden garden pergolas, you could have an ideal, pleasant and dedicated place to carry out your work during the day, taking advantage of natural light and fresh air.
Once work is finished, you can also use it in so many other ways, to share with the family or carry out meetings with friends, always protected from the sun or inclement weather.
The workspace should be a place for your exclusive use. If not, we can guide you in achieving this goal. We are a professional team with extensive experience in the design of spaces and work with wood. We can create warm and pleasant spaces for you to spend long hours working, stairs, beams, dividers, soundproofing, floors, attics, swimming pools …
We can offer you endless possibilities to turn your home into a true space to live in and adapt to the new digital age.
How to combine work time with family life?
The unification at home of the three environments in which a person develops (social-work-family), makes it necessary for us to open up specific areas and transform others. The goal is to maintain the organization of tasks and the rest of the activities to feel comfortable in each of the facets.
It is important to keep these environments separate in the house, when you are working everyone will know that this physical space is intended for work and that they should not interfere there.
The adaptation of both interior and exterior spaces such as pergolas for terraces is a perfect solution to have the ideal space
If, on the other hand, you want to improve the social environment of your home, we recommend the installation of a pool with wooden sheets in the garden or inside the house, if you have the adequate space. If so, you and your family would enjoy it all year long.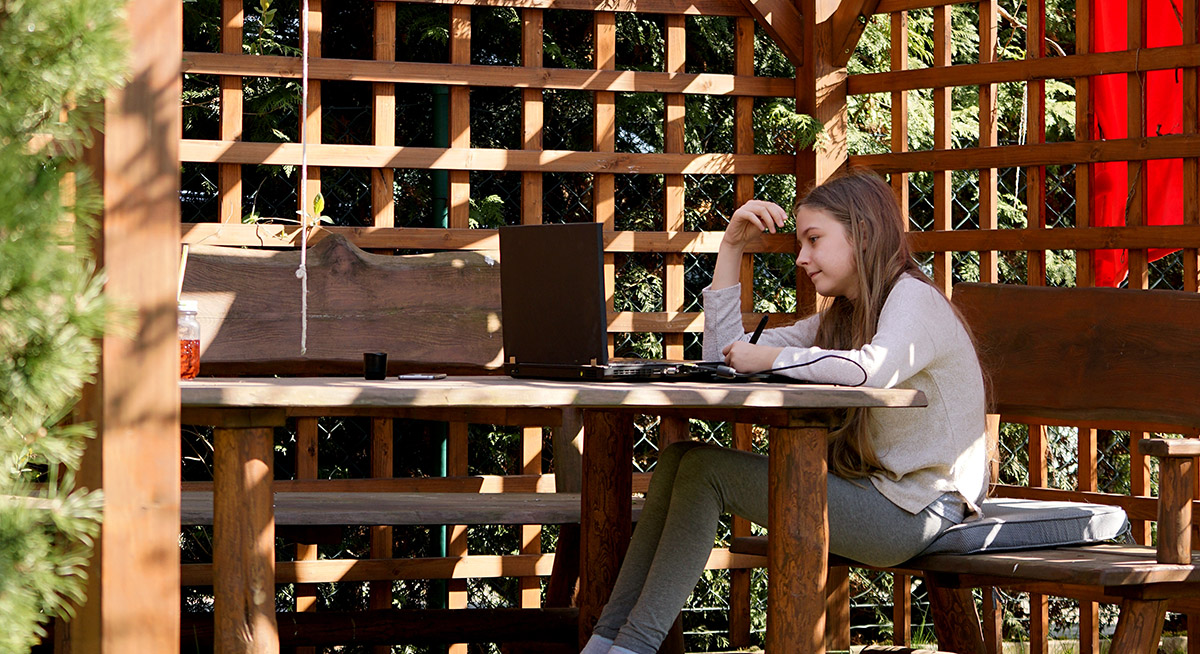 Do you need to install a pergola or garden porch?
We are specialists in the design and installation of high quality wooden pergolas for gardens; we optimize your space by giving it a new ambience with this architectural element.
You can give your garden various uses, everything will depend on the model, the shape you choose and the area it will cover.
We have uncovered, fully covered or partially covered wooden pergolas.
The garden pergolas or wooden porches will give a different touch to your home, a place for meeting and recreation or simply for rest and relaxation.
Another useful element in these cases and that are in high demand are garden houses or wooden garden houses, a really useful element that you only realize when you have installed it and enjoy the new space gained.
Having the home office may require setting up a unique place where you can be highly productive, while being so comfortable that you can spend several hours there.
If the area where you work has poor lighting, does not have a suitable floor, does not have windows or some type of ventilation, you should think about adapting it to your new needs.
Our team of professionals can carry out such a project in a few days.
Do you want to adapt your home to the new work and social reality?
It is definitely necessary that in this process the space reflects the change and adaptation to your new requirements.
The crisis generated by Covid-19 is not only limited to the labor field, social life has been diminished by the pandemic and forces us to take certain measures.
Not being able to share with friends, go to parties, have family gatherings, everything has changed since the appearance of the coronavirus.
The center of everything is now your home, but don't be overwhelmed, we have architectural solutions with state-of-the-art technology at your disposal.
After a day's work, you have to make time to share with the family. The atmosphere should be relaxed and there is nothing better for this than doing it in a wooden space. If you've had it on your mind for a long time, now is the time, we will help you and advise you in the creation of these unique environments in your home.
The installation of wooden floors, or new beams in your ceilings, can harmonize giving a comfortable and warm look to your new home office.
You can add lighting or color, texture and shape, give it the style you need to feel in a comfortable environment, where you feel most productive.
How to invest resources efficiently in housing?
Dedicating a place in the home to receive friends can be a good alternative to prefabricated wooden houses, a fast and inexpensive housing alternative.
You can also put them in your garden and they allow you to save energy with the installation of a solar panel pergola with recharging for electric cars. A clear way to save energy.
You can make projects and rooms in wood that are more affordable. If you need more space to accommodate family and friends, do not hesitate to contact us and we will make a project and budget adjusted to your needs with the highest quality.
For external storage, you can opt for a garden shed or wooden garden shed.
Depending on their size, they can be used as a dressing room for the pool area, tool storage, office, guest room or as a play area for the little ones, give it the use you need.
We have many options for you, from a pergola with solar panels, which produces clean energy, to a small garden house, a swimming pool with wooden floors, or adapting the perfect space inside your home with wooden structures or panels.
Our team of professionals is available for your project. And give you a turnkey project.
Do not hesitate to contact us.
A new life is waiting for you in your own home.