Pallars is made up of a specialized technical and human team for every need. We use both structural calculation, measurement, construction, treatments, etc.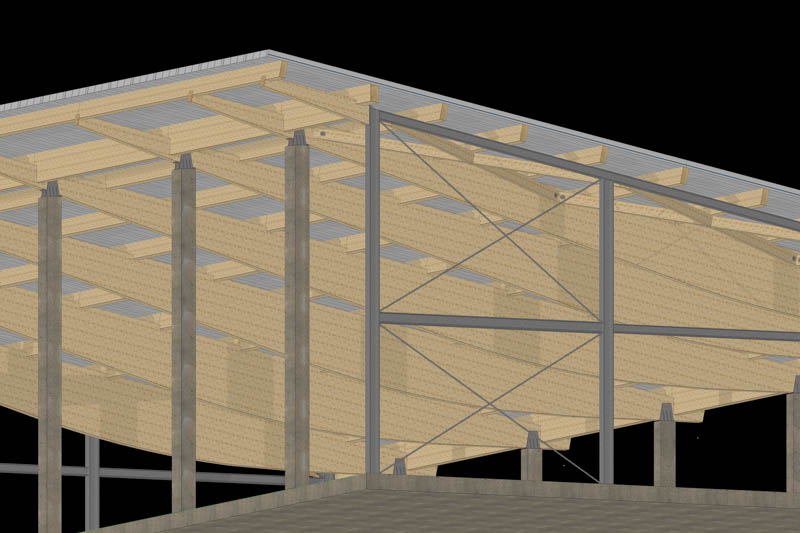 TECHNICAL ADVICE
At Pallars Fustes we have a great team of professionals that include: calculation engineers, technical architects, and industrial engineers who bring our projects to life. All our constructions follow the current CTE regulations, we always work with CE certified products and our priority has always been to work with highly sustainable products. We have been working with wood for more than 22 years, providing solutions and improving the lives of our clients, working in depth in the technical area of wood. Structural calculation is another one of our passions; the versatility of options in this noble material provides solutions and structural typologies to be able to give our projects a solid foundation in our constructions.
Our origins go back to a primary wood sawing company in Pallars. Our grandparents already worked in wood, our parents incorporated a secondary industrial transformation, and we, as the children have continued this family tradition by integrating wood and building into one product. An integration of great beauty. We are at the forefront of new wood construction systems, our experience in thousands of projects means that we have no limits in our construction with all kinds of wood. We can bring in all our experience to work your ideas and functionalities in the space you need to build or model. Count on us.
We have advice for passive and sustainable construction. We have built a wide variety of homes with passive standards and with innumerable protocols to improve comfort and habitability in homes. We provide different solutions that give our constructions a substantial improvement in conjunction with wood-based projects.
We are aware of the relationship of life at home and wood in the natural environment, as a clearly sustainable construction product, in order to be more respectful of the planet, making our structures and constructions using regional references. We always respect the natural environment and taking into account the aesthetic, architectural and ecological factors.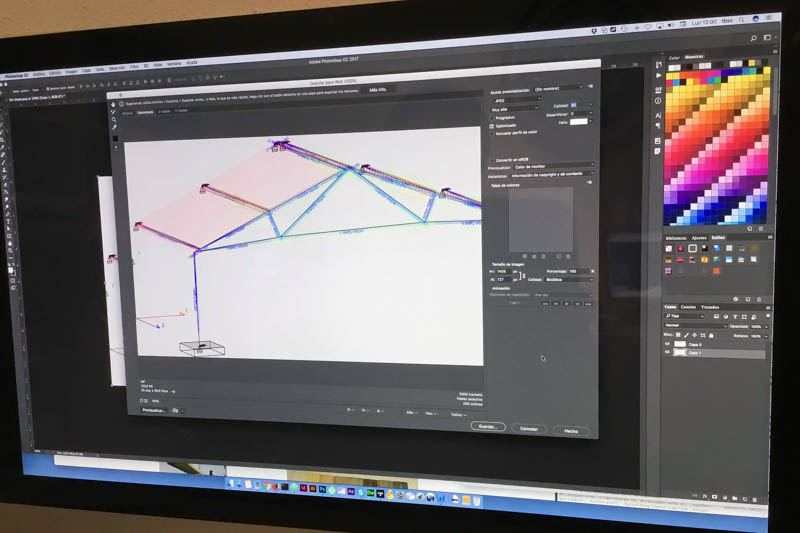 STRUCTURAL ASSESSMENT
Our team at pallars Fustes has highly experienced calculation engineers who provide the entire outline of solutions to each project. Together with real three-dimensional design programs to reach the millimeter detail in each technical wooden structure, we can define with complete accuracy all the details of the set both in technical wooden roofs and in complex CLT structures. We always calculate with current CTE regulations, both individual elements, sets of elements, frames, beams with large spans, mixed wood-concrete floors, cross-laminated wood structures (CLT), light framework structure and heavy framework structures.
Once the solutions have been broadly defined, we proceed to the solution and calculation of small-scale elements: beam connections, metal connections, mixed connections, fasteners and sets of details. We can also calculate the structural elements of other materials such as concrete, metal and glass to achieve a set of perfect solutions and improve its most complex points.
Our experience in countless projects on wood helps to have a large number of solutions for each specific case. We are specialists in complex and high-difficulty jobs, working with innovative solution systems and providing continuous improvements to all structural assemblies. We are specialists in technical wooden roofs and in all types of CLT assemblies.
We work with facultative management, advising, designing to the taste of the property with extensive technical knowledge in everything related to wooden structures, to achieve what the client wants, further improving their expectations and achieving both perfect structures in calculation, as well as in aesthetic vision. A useful set to achieve fast, precise and harmonious projects with the environment.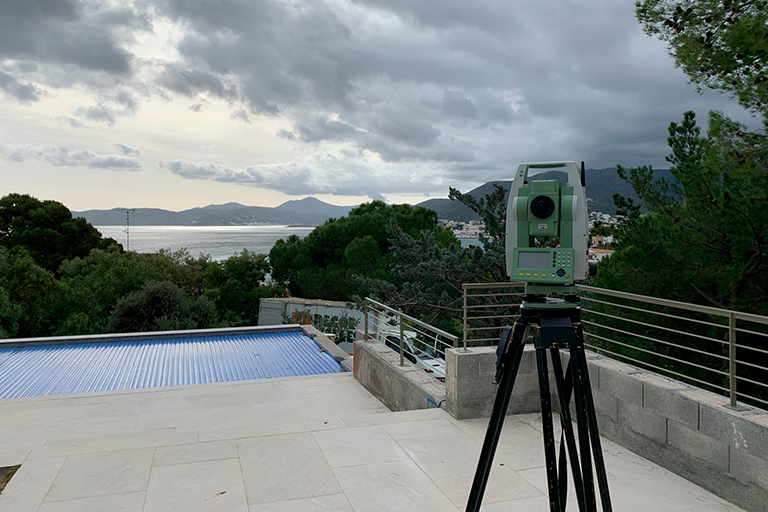 REAL MEASUREMENT
Pallars Fustes has the most complete systems for the real measurement of work and its subsequent work in design and calculation programs and wood production. We believe that to be successful in each project we need to be perfectionists in every detail, therefore, we have incorporated topographic stations for millimeter measurements of the entire project.
Once our anchor base assembly is ready, our technicians go to work together with the construction management, to be able to check measurements, take new ones and find solutions for all the complicated points of the project. This perfect measurement gives us all the information to develop a real three-dimensional drawing, perfectly calculated, with a suitable joining system for each project and with millimeter accuracy to achieve a completely prefabricated and fast commission.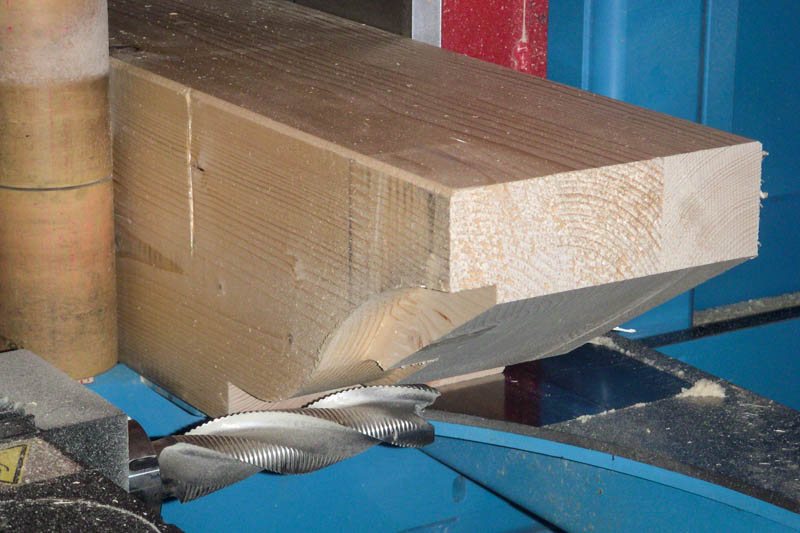 CNC MACHINE
Once the whole project has the green light, manufacturing plans have been reviewed and all the solutions with property and construction technicians are agreed upon, we move on to the manufacturing side of things.
Our CAD-CAM system, through Cadwork (www.cadwork.es), allows us to carry out a prefabrication of all the construction elements, incorporating the entire set of mechanizations that wood permits: drills, notches, half woods, jupiter rays, glues dovetails, grooves, chamfers, cuts, beam heads etc.
Each beam, panel and set of structure has a production number, which in turn, tells us its placement within the work. The CNC machines are cut to the tenth of a millimeter for each piece, they give us the numbers and we prepare the great "Mecano" for post-production.
We work with the most modern machines on the market, large production 5-axis CNC machines for wooden beams, for CLT panels and also pantographs for beams with a maximum length of 36m. We carry out a precise control of all the machinery; we need all the details so that the manufacturing is exact and the installation is perfect.
We also take into account our material optimization margins, working in narrow margins to achieve an even more sustainable construction.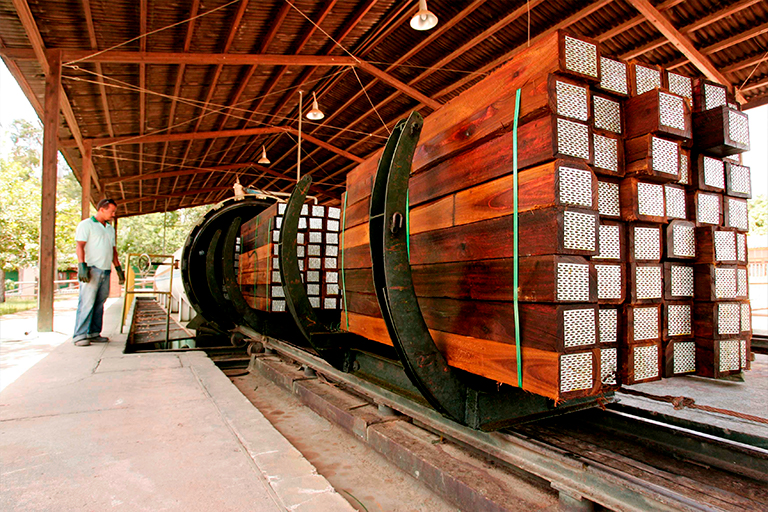 TREATMENTS
We give our products the most appropriate treatment for each type of wood and in accordance to current regulations. We also offer risk II fungicide-insecticide immersion treatments and colorless, green and brown autoclave treatments with risk class III and IV.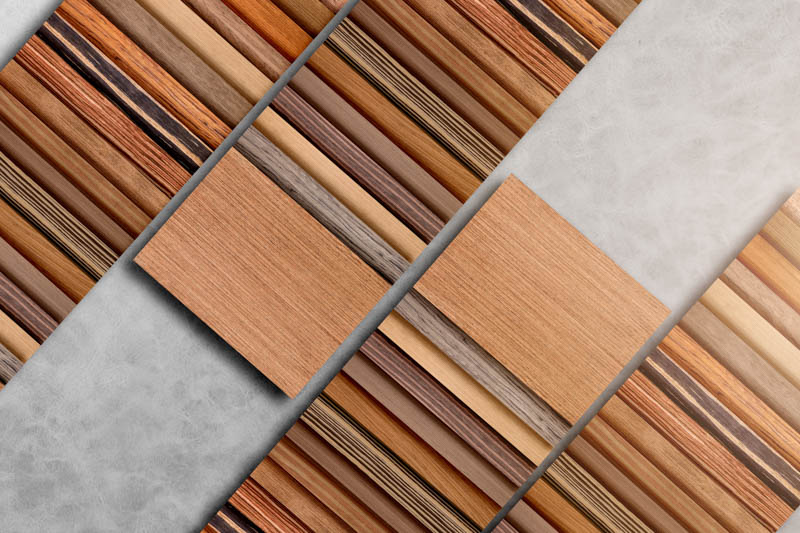 FINISHES IN COLOR
According to the needs of our clients, we choose the most suitable color that corresponds to the need of the moment. We have a wide range of finishes in both color and texture. Thus we manage to create more welcoming, designer, modern and all kinds of spaces. You can see this in our showroom.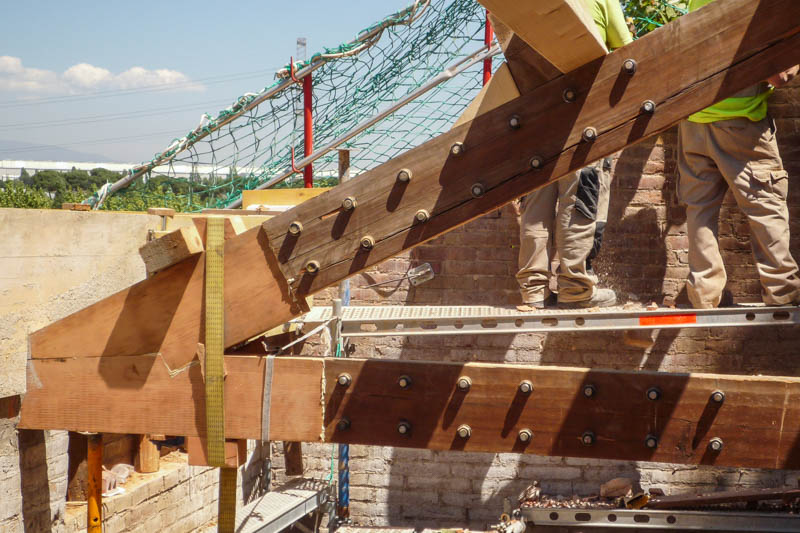 MAINTENANCE AND REPAIR
We carry out repairs of structural and decorative elements in wood of all types and shapes. We use prosthetics or multi-component resins. For a good maintenance we apply preventive and curative treatments of the damaged elements. Our experts make an exhaustive study and assess the project to be rehabilitated.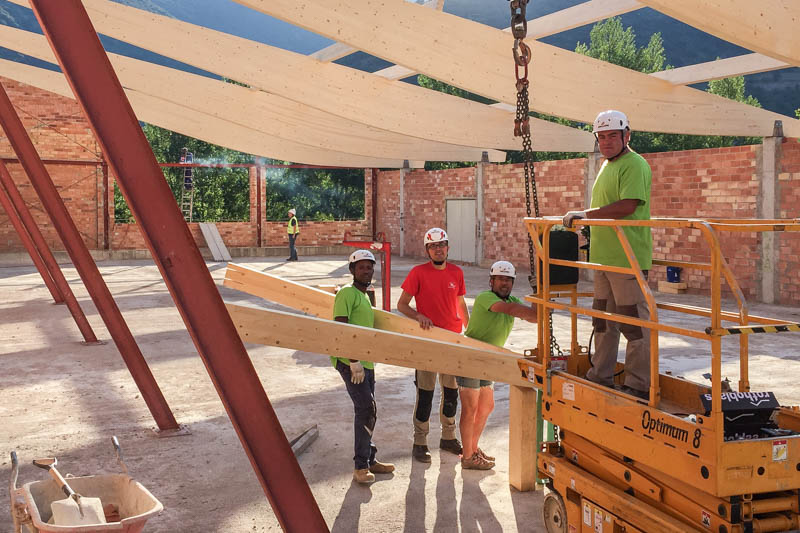 PLACEMENT
The logistics and placement is one of our strengths and one of the keys in building a prefabricated wood construction.
Our company has a specialized team, with extensive experience in the placement of wooden structures, which carry out the installation with accuracy, as the assembly plans describe, after a correct structural calculation. Their dexterity is comprehensive to their skill and speed of placement. They have the most modern machinery to accurately complete all jobs with safety, precision and neatness. We are aware of the assembly speeds in our constructions and, therefore, they are reinforced by a set of logistics and necessary lifting.
We have the sets of vehicles, rigid vehicles and special vehicles to transport all materials to the work site. We coordinate lifting machinery and verify all requirements for a correct and safe commissioning. We work with Auto Cranes, or Self-propelled Cranes depending on the needs.
Together, for vertical works we also have the lifting kit so that our teams work with maximum safety and achieve assemblies in short times, adjusting to expected delivery times and dates.
For the application of other non-wood materials, we also have experts in their own fields, who coordinate and control the entire set to achieve the quality and date objective set.